Creation CC
Technically ingenious, inspired by nature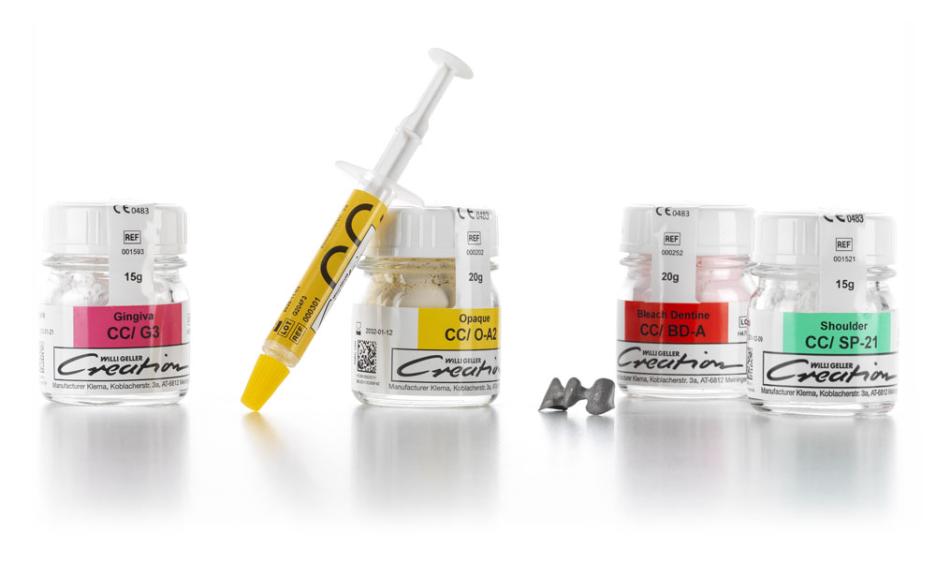 Metal-ceramics in perfection: Creation CC is a high-fusing metal-ceramic with outstanding optical and physical properties that has always kept pace with increasing aesthetic demands - acclaimed and proven worldwide for more than 30 years!
The perfectly matched ceramic materials feature excellent homogeneity and high flexural strength. The consequence: a densely sintered structure for pure and pore-free layers with maximum reliability. The pure potash feldspar with a microfine leucite crystal structure creates iridescent light refraction and natural brilliance, as well as enhancing strength. In addition, the special effect materials can also be used to create exceptional colour highlights.
The choice of modular kits offers the perfect start for all requirements. This classic brand lets you create metal-ceramic restorations with impressive aesthetics - dental artistry in perfection!
Creation CC – natural brilliance and efficiency.
THE BRILLIANCE OF CREATION CC:
Unique, lifelike aesthetics owing to highly pure potash feldspar
Highly resilient ceramic due to high flexural strength
Natural colour effect and light dynamics due to leucite crystals
Ease of handling thanks to a consistent colour and layering system